Our product advantages
In order to create high-grade building wood formwork plywood, ingenious manufacturing!
Carefully selected materials  Not easily deformed
Complete specifications  Optional thickness
Sturdy and not easy to crack
90000 square meters production base 
days supply with ultra-short delivery time 
production elite team  
30000 sheets daily production capacity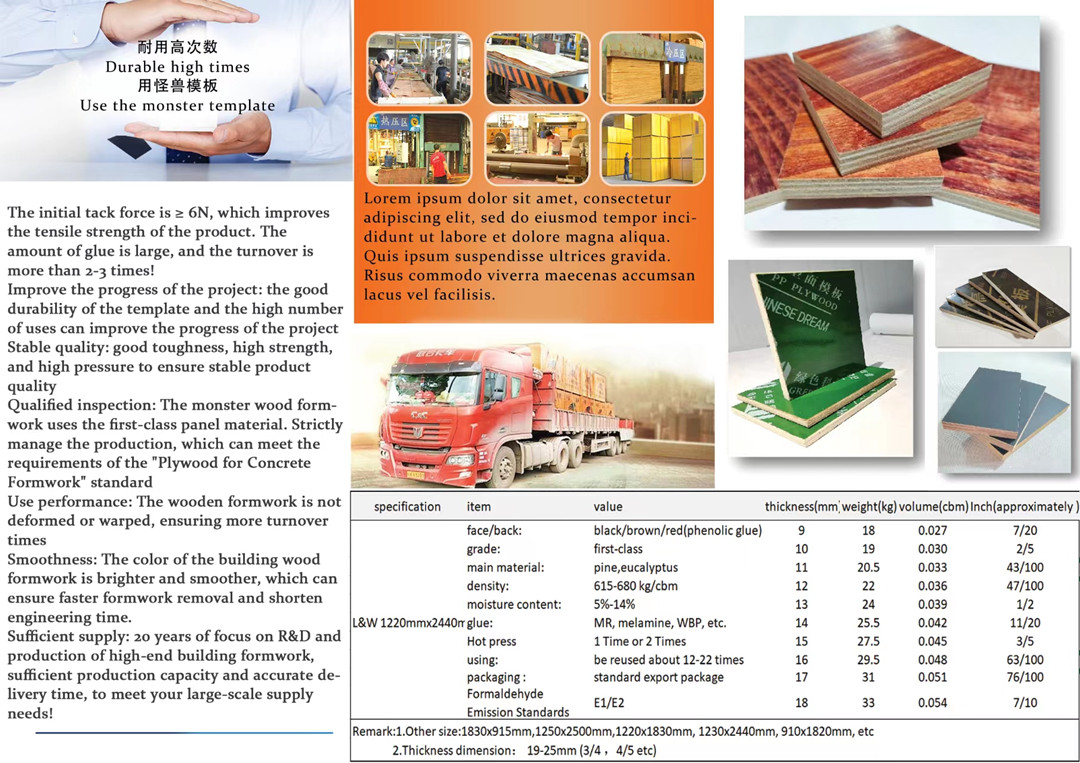 ● Uniform thickness
● Special glue
● A+ Veneer
● Sufficient weight and thickness
● No deformation or warping, peeling off
● Flat and easy to demold
● Good toughness
● High turnover
● Water and corrosion resistance
● Available in stock
● Factory direct sales
The building plywood produced by Monster Wood has high pressure, and the amount of glue applied per single layer of each veneer is about 500 grams. It is more than 20% more than that of its peers. The factory pass rate is as high as 97%, which is more than 5% higher than that of the same industry. High usage times are usually 2-8 times higher than their counterparts. The customer repeat rate is 99%.
 Durable high times
Use the monster template
High strength
 The initial tack force is ≥ 6N, which improves the tensile strength of the product. The amount of glue is large, and the turnover is more than 2-3 times!
 Improve the progress of the project: the good durability of the template and the high number of uses can improve the progress of the project
 Stable quality: good toughness, high strength, and high pressure to ensure stable product quality
 Qualified inspection: The monster wood formwork uses the first-class panel material. Strictly manage the production, which can meet the requirements of the "Plywood for Concrete Formwork" standard
 Use performance: The wooden formwork is not deformed or warped, ensuring more turnover times
 Smoothness: The color of the building wood formwork is brighter and smoother, which can ensure faster formwork removal and shorten engineering time.
 Sufficient supply: 20 years of focus on R&D and production of high-end building formwork, sufficient production capacity and accurate delivery time, to meet your large-scale supply needs!
 100% attentive to good quality, only for higher turnover
Only for better, real materials, 'meticulous' meticulous, quality is guaranteed!
 01.It is made of 1.0-1.2 thicker material, which is 30-50% more durable than the template on the market.
02.Using high-quality full-core board environmental protection materials, the material is uniform, the template does not open glue, and can not be peeled
03.It has excellent durability with high-intensity usage rate, and can be used more than 10 times!
04.24-hour automated production, with a daily output of 30,000 sheets, to meet the urgent needs of new customers
Contact us:
website : https://gxxblmy.en.alibaba.com / https://www.gxxblmy.com
For specific information, please contact our.
Whatsapp : +86 19175889898 / +8619375568009
Facebook :  Vicky Gong / Cici Zheng
Mail:  vicky.gong@gxxblmy.com / xixizheng0502@gmail.com
---
Post time: Sep-22-2022